Our Mission and school values
Our Mission Statement was rewritten in March 2023. It encompasses everyone involved in our school - children, parents, staff and governors.
It is clearly understood by all, underpinning all we do in school and determining our whole purpose and ethos.
We firmly believe that wherever you are in our school you will see our mission statement being lived - in class, in the playground and in our interactions and love of each other, as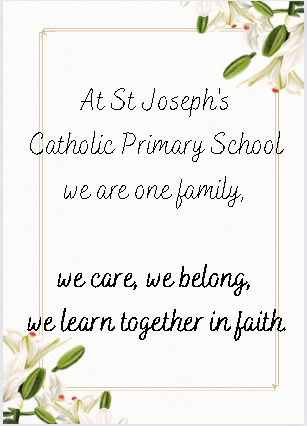 Our Vision
In the faithful care of St Joseph, Jesus prospered.
We care, we belong, we learn together in faith
Our Mission
St Joseph's is a Catholic primary we are one family. We care, we belong, we learn together in faith.
We:
promote the partnership of home, school, church and community;
pray together, grow in faith and live the Gospel values;
respect and care for everyone and everything around us;
value each child as an individual;
encourage our pupils to develop active and creative minds;
promote self-esteem and confidence;
set high standards of learning;
celebrate the achievements of each and every child.
St Joseph's is a Catholic School, in which each individual is valued, cherished and nurtured, as they grow in the knowledge and love of Christ.
Our vision and values are at the core of everything we do. Our values are firmly rooted in those found in the Gospels - they underpin our relationships as well as our teaching and learning, and provide an environment which prepares our pupils as confident, happy citizens.
In partnership with parents and the whole community, our purpose is to provide a high standard of education, giving the maximum opportunity to recognise each person's talents and enable them to fulfil their true potential.
Our Gospel Values are understood and respected by adults and children alike, as we learn and play alongside one another, showing love, care and forgiveness in all we do.
At St . Joseph's we focus on the following Gospel Values: